Already a certified diver?
PROFESSIONALLY GUIDED TOURS FOR CERTIFIED SCUBA DIVERS. WITH AN INCREDIBLE VARIETY OF OVER 80 DIVE SITES IN THE ROATAN MARINE PARK, YOU WILL NOT BE DISAPPOINTED!
Professionally guided tours for certified scuba divers are offered whether you like sheer wall, sandy flats, swimthroughs, drift dives, challenging currents, deep dives, shallow dives we will find the dive site for you.  Check out our Dive Schedule to see which trips suit you best, and take a look at our Dive Sites to see descriptions of some of the signature dive sites that feature on our weekly schedule.  We select our dive sites based on where we are likely to have the best conditions, mooring availability and we try to ensure that you will not be repeating dive sites during your stay (unless you want to, of course!) See our Price list, for more information on dive packages.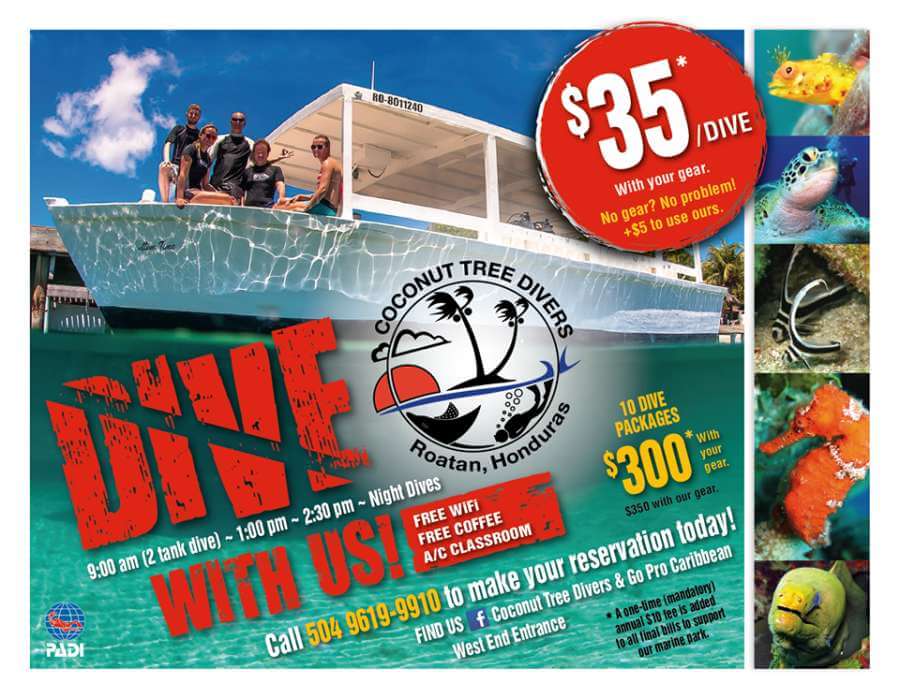 Our experienced instructors have thousands of dives all over the reef, so you can be sure that you will get the best dive profiles to suit your preferences and your experience.
At the end of your stay, you will receive a print-out which features all your dive log information, so that you don't need to worry about keeping track of the specifics of your dives.  Don't have your own equipment?  We have a selection of Rental Gear available to suit your needs.
---
Scuba Diving Photo Gallery
Coconut Tree Divers – Roatan, Honduras
Photos courtesy of Alexandra Harper Graham
www.alexandrahbphotography.com
---
FREQUENTLY ASKED QUESTIONS
Scuba Diving Trips for Certified Divers- Roatan, Honduras
Reserve Your Spot
Coconut Tree Divers – Roatan, Honduras
---
What's Your Next Adventure?
---