Coconut Tree Dive Crew
Read about Roatan's premier dive crew

GAYNOR POOK
OWNER – ENGLAND
Started April 2002
After traveling the world for many years searching for the right place to call home, Gay finally found her little piece of paradise on Roatan. In 1996 she learned to dive on Roatan's reef and in 2001 became one of the owners of Coconut Tree Divers.
Gay, who generally handles customer service at Coconut Tree's reception desk, diveshop operations and pretty much anything that isn't mechanical, is always good for a delicious cup of tea and a solid laugh. As one of the founding directors of the Roatan Marine Park, Gay juggles her time between addressing environmental issues, handling her kids social life, dealing with the shop boys and girls and keeping fresh on the latest Roatan gossip.
---

MONTY GRAHAM
Mechanical engineer – CANADA
IDC STAFF INSTRUCTOR
TDI / SDI ADVANCED TRIMIX INSTRUCTOR
DSAT TRIMIX INSTRUCTOR
TDI / DSAT SIDEMOUNT INSTRUCTOR
Started March 2007
Monty's diving career began in 2001 when he was trained as a deep sea/commercial diver in Seattle, Washington.  Having now having to draw his attention to becoming the full time mechanic in the dive center. He is the Technical Deep and Trimix Instructor, one of only two on Roatan.
Monty is the owner and operator of www.roatanteccenter.com that is affiliated with Coconut Tree Divers. He is married to his beautiful wife Alexandra Harper-Graham, the most talented underwater photographer on Roatan.
---

ALEXandra HARPER-GRAHAM
OWNER – ENGLAND
Underwater photographer and Instructor
Started January 2015
Alex is one of the most talented underwater photographers that Roatan has to offer. She offers photography courses and personal photography underwater shoots. Since completing her TDI sidemount course and extended range Tec diving course, her focus is to go deeper with her camera and capture images only tec divers can do. Alex sells her prints online at www.alexandrahgphotography.com and they can be purchased at the dive center or at Bay Island Hotel. When not diving Alex enjoys traveling and hanging out with her husband Monty.  Alex is working hard on becoming the next diesel and compressor mechanic.
---

WILL WELBOURN
COURSE DIRECTOR – LONDON, ENGLAND
Started September 2004
Roatan's longest serving Course Director Will Welbourn started diving in 1989. Will explored the waters of Thailand, Australia, Malaysia, Indonesia, Crete, Sri Lanka, Bocas del Toro, and the Corn Islands. Tired of his job as an accountant, he left sunny England in 2003 and completed his PADI Divemaster and Open Water Scuba Instructor certifications in Roatan.
Will serves as a Coconut Tree Diver's PADI Course Director, PADI/DSAT Tec Deep and Trimix Instructor Trainer, and Emergency First Response Instructor Trainer. He is currently a PADI Instructor Trainer in the following specialties: Deep, Night, Wreck, Enriched Air Nitrox, Digital Underwater Photography, Emergency O2 Provider, Boat, Drift, Naturalist, Underwater Navigation, Search and Recovery, Equipment, and Gas Blender.
Will is married to Loren, owner of the restaurant Oasis that offers delicious fine dining in West End. They have a beautiful daughter Andi and when he's not teaching or spending time with his family Will loves a bit of English Chelsea football.
---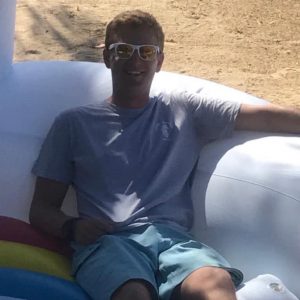 RILEY ESSENBURG
MASTER SCUBA DIVER TRAINER
---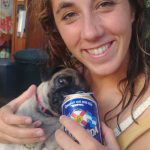 TINA
MASTER SCUBA DIVER TRAINER – ARGENTINA
---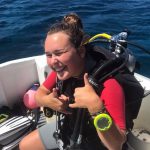 CHARLY STRCHR
OPEN WATER SCUBA INSTRUCTOR – GERMANY
---

ROLANDO PUERTO
DIVEMASTER – ROATAN, HONDURAS
A native Roatan islander, Rolando completed his Divemaster certification at Coconut Tree in 2005 and now leads visiting divers around his favorite dive sites. Rolando loves driving his skiff, drinking rum, and impressing the ladies by diving headfirst into the reef. When not in the water, he can be found managing the Coconut Tree Resort.
---
SUPPORT STAFF

Chucky washed ashore one fateful morning in 2007. His algae-encrusted hair, sulfuric stench, and hideous face made him the perfect fit for Coconut Tree's shop mascot.
Chucky is a notoriously poor diver who constantly gets lost on Rescue courses. When he's not lounging around on the ocean floor with his custom-made weight belt, he lurks around the side of the dive shop awaiting his next chance to go diving (or frighten new customers).
Chucky is a bit of a celebrity, you might have seen him recently on CNN. Read about Roatan's premier dive crew
---