PADI Peak Performance Buoyancy!
GET STARTED WITH THE MOST POPULAR SPECIALTY DIVE CERTIFICATION IN THE WORLD
---
Peak Performance Buoyancy Course Description
Coconut Tree Divers – Roatan Dive Shop
DIVE COURSE DETAILS
• DIVES: 2
• DAYS: 1
• PRICE: $190.00
• Pricing Includes Materials
• MINIMUM AGE: 10
---
WHY PADI PEAK PERFORMANCE BUOYANCY?
Wind your way through narrow swimthroughs. Hang upside down to spot that hidden lobster. Hover effortlessly along a wall. The PPB specialty fine-tunes your ability to control your lung volume, trim your weights, and reduce your air consumption. Excellent when combined with the PADI Digital Underwater Photographer specialty, or at the end of your PADI Open Water Diver course to set you on the right track with buoyancy control at the very start of your diving career.
---
WHAT DO I NEED TO START?
You need to be at least 10 years old, and PADI Open Water certified (or equivalent certification from another organization).
---
WHAT WILL I DO?
You will work to enhance your buoyancy control abilities through knowledge development and specific practical skills. Buoyancy skills include:
Proper weight selection
Weight distribution
Tank positioning
You will also fine-tune your control and fin kicks with the following exercises:
Fin pivots
Hovering skills
Improved breathing techniques
Streamlining and efficient fin kicks
Obstacle courses and creative exercises
Our instructors' years of experience will tailor the course to best suit your diving needs, and give you the best follow-up advice possible.
---
WHAT DO I EARN AT THE END?
You will be certified as a PADI Peak Performance Buoyancy Diver, a testament to your enhanced buoyancy abilities.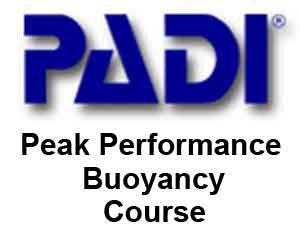 ---
WHAT'S YOUR NEXT ADVENTURE?
Coconut Tree Divers – Roatan Dive Shop