PADI Shark Conservation Diver!
GET STARTED WITH THE MOST POPULAR SPECIALTY DIVE CERTIFICATION IN THE WORLD
---
PADI Shark Conservation Diver Course
Coconut Tree Divers – Roatan Dive Shop
DIVE COURSE DETAILS
DIVES: 2
DAYS: 1-2
PRICE: VARIES
Available Upon Request
MINIMUM AGE: 12
PREREQUISITES:
(JR) ADVANCED OPEN WATER
PADI OR OTHER QUALIFYING CERTIFICATION
---
WHY PADI AWARE SHARK CONSERVATION DISTINCTIVE SPECIALTY COURSE?
The goals of the AWARE Shark Conservation Diver course are to inform students of the value of sharks to marine ecosystems and economies. To educate you about the causes of declining shark populations, to build an understanding of what is missing in current fisheries management. Fundamentally, disperse misconceptions about sharks and to inspire you to help sharks by taking action.
---
WHAT DO I NEED TO START?
The AWARE Shark Conservation Diver course has been written to encourage delivery to a broad a range of participants. The course may be taught as a dive certification course or a non-dive education program. When taught as a dive course it is not a certification requirement to see sharks during training dives. Knowledge development can be delivered as a stand-alone education program for non-divers who will be recognized with an AWARE Shark Conservation Program Participation Certificate.
---
WHAT WILL I DO?
Knowledge development can be delivered as a classroom presentation or through independent study using the AWARE Shark Conservation Study Guide. The course includes a section to teach students about sharks found in our region, which will be delivered as an Instructor-led workshop. There are two dives to complete. The aim of the training dives is for students to use the knowledge gained from your lessons to appraise a dive location for potential hazards to sharks and for features that may reduce impacts on sharks.
---
WHAT DO I EARN AT THE END?
By the end of this course you should be knowledgeable, passionate and inspired to act to protect our oceans sharks. You will learn the ways to become involved in shark conservation by using the materials available in this course.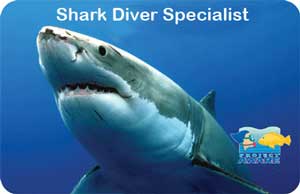 ---
WHAT'S YOUR NEXT ADVENTURE?
Coconut Tree Divers – Roatan Dive Shop