PADI Shark Diver Specialist!
GET STARTED WITH THE MOST POPULAR SPECIALTY DIVE CERTIFICATION IN THE WORLD
---
PADI Shark Diver Course Description
Coconut Tree Divers – Roatan Dive Shop
DIVE COURSE DETAILS
• DIVES: 2
• DAYS: 1-2
• PRICE: $300.00
• Pricing Includes Materials
• MINIMUM AGE: 15
PREREQUISITES:
• PADI ADVANCED OPEN WATER
---
WHY PADI SHARK DIVER DISTINCTIVE SPECIALTY COURSE?
The goals of the Shark Diver course training are to educate individuals the importance of the sharks species common in our tropical waters, as well as to familiarize you with the role of Project AWARE in preserving the aquatic environment. We will also provide you with the knowledge and skills needed to identify individual sharks and record sightings, and inform you about decline in shark populations, the importance of sharks to marine biodiversity and what can be done to reduce the loss of sharks worldwide.
---
WHAT DO I NEED TO START?
You must be at least 15 years old and be certified as a PADI Advanced Open Water Diver (or other qualifying certification).
---
WHAT WILL I DO?
The purpose of the Shark Diver Distinctive Specialty course is to introduce divers to sharks and familiarize them with proper recreational diving techniques for responsible interaction. During the Shark Diver course you will learn the role of Project AWARE and protect the shark campaign. You will also learn the biology, behaviour, and distribution of sharks, provide an overview of shark research and worldwide conservation status.
---
WHAT DO I EARN AT THE END?
By the end of this course you'll be knowledgeable, passionate and inspired to act with identifying, reporting and helping with the conservation of sharks. You will also be able to plan, organize and execute a dive with sharks in a safe, passive manner, while emphasizing the importance of shark monitoring activities and provide shark conservation opportunities through participation in Project AWARE.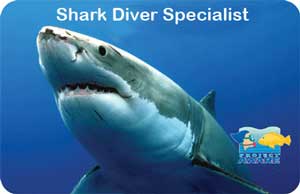 ---
WHAT'S YOUR NEXT ADVENTURE?
Coconut Tree Divers – Roatan Dive Shop