What time of year is best for scuba diving Roatan?
This is one of our most frequently asked questions
As well as one of our favorite to answer…
why?
Because Roatan is one of those magical little places where excellent diving with great visibility happens all year round.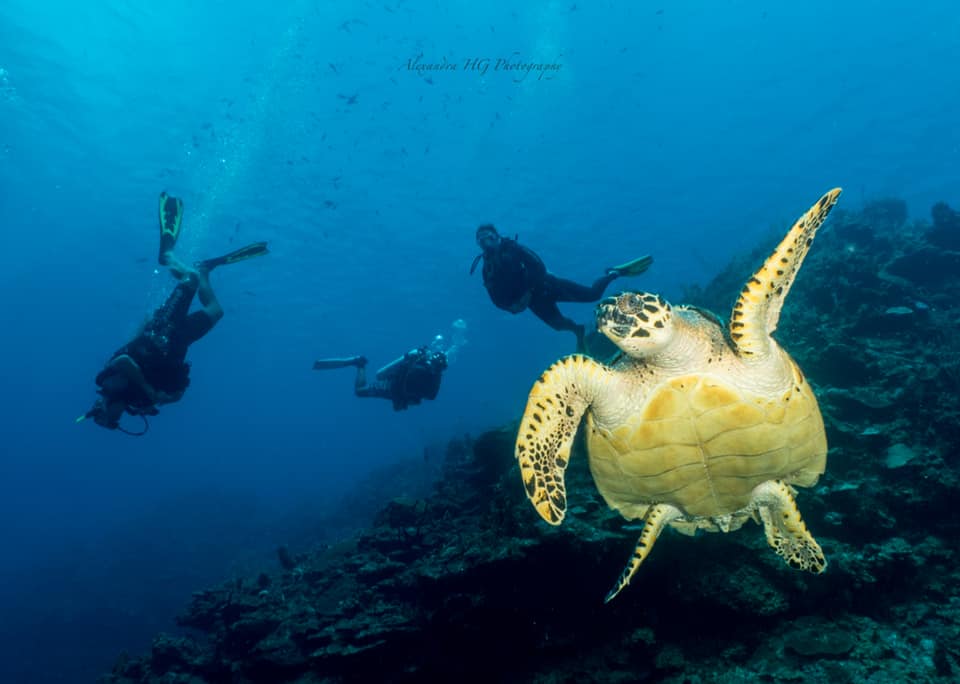 Okay, cool… but what is really the BEST time of year to dive Roatan?
Well it can be subjective, however after 17 years on the island (wow has it been that long?) here is our break down…
Rainy Season (October – February)
First thing people want to know: when does it rain? Rainy season generally starts in October and can last through January to mid February. With October and November usually getting the brunt of the rain. Rainy season can be a bit tricky though, some years it has been worse than others. For example this past 2018-2019 rainy season saw very little rain while the year prior saw more than usual. Overall, Roatan has a mild rainy season compared to other tropical destinations. If we do get a big storm it usually comes and goes in a few days!
The term 'rainy season' may sound scary, and while there is possibility for cancelled dives, it can absolutely be an excellent time to dive! You may even have the boat to yourself!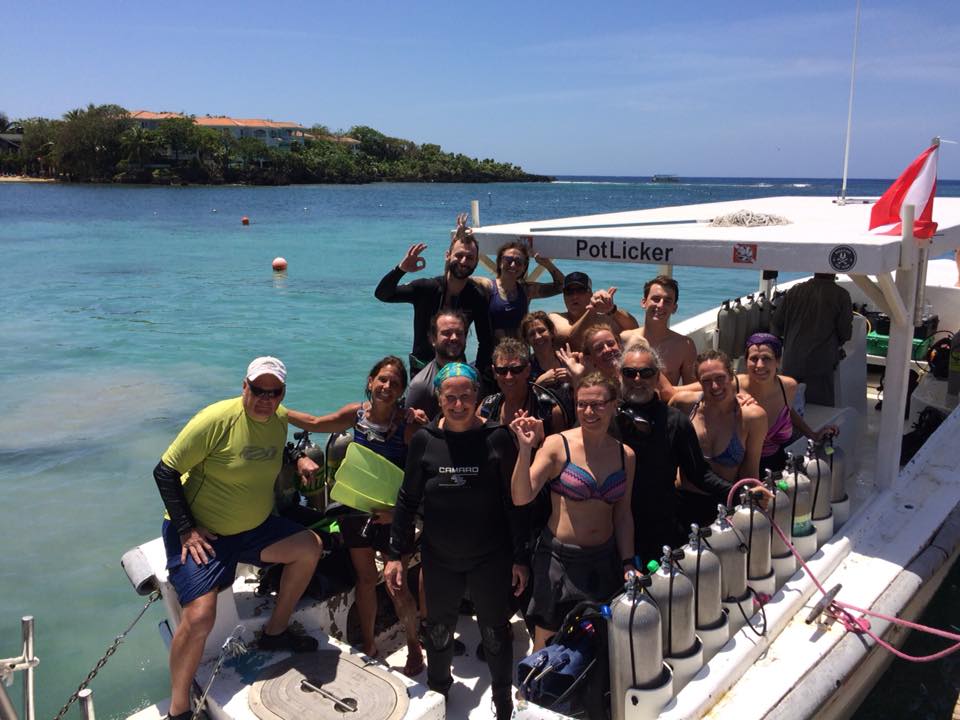 High season (December – April)
High season runs from December – April. It is the busiest the island gets for a couple of reasons such as the holidays, spring break, and everyone up north trying to find some relief from the bitter cold of winter.
It is a great time to be on the island as everything is open and the energy of the island is buzzing. High season does intertwine with rainy season however, allowing for a chance of storms, but on the plus side we get some cooler temperatures. Don't panic… when we say 'cool' we basically mean not absurdly blazing hot. You may get some rain but it is hit or miss and generally not something that would ruin your trip or your dives. Christmas, February and March are particularly buzzing, and you can expect full accommodation rates throughout busy season.
TIP: The island gets extremely busy the week of Easter (Semana Santa) with an influx of visitors from mainland Honduras and a spike in accommodation prices. Most people are not there to dive so the dive shops are not busy, but it would be up to you to brave the craziness that is Semana Santa!
TIP 2: We celebrate the Coconut Tree Dive shops birthday each year in late April with a massive party that we look forward to all year. We always love to see our customers come out for it, you are all invited!!
Avg water temp: 27 °C (81/82 °F)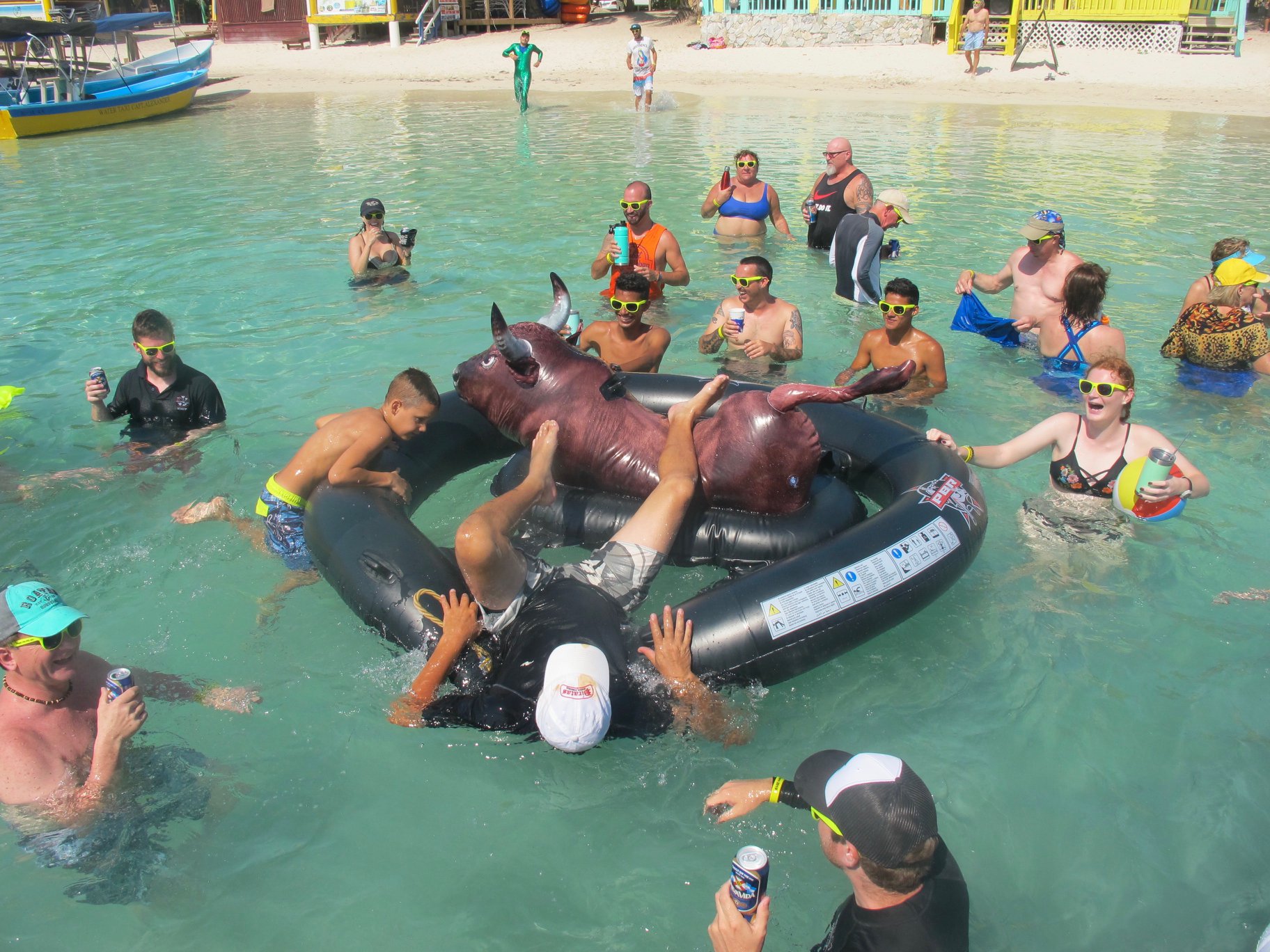 May & June
We tend to see a slow in tourism on the island come May and June as most guests are home finishing up the school year and enjoying their first few weeks of summer. With less tourists and no more rain clouds, we consider this a best time of year to dive Roatan without a doubt! Water temperatures start to rise and the bright sunny weather provides great visibility in the water. This would be a perfect time for any aspiring underwater photographers to capture some great photographs!!
Less tourists means better deals on accommodation (woohoo)! This paired with great weather and warm water.. seems like a no brainer to want to scuba dive Roatan during these months!
Avg water temp: 28 °C (82/83 °F)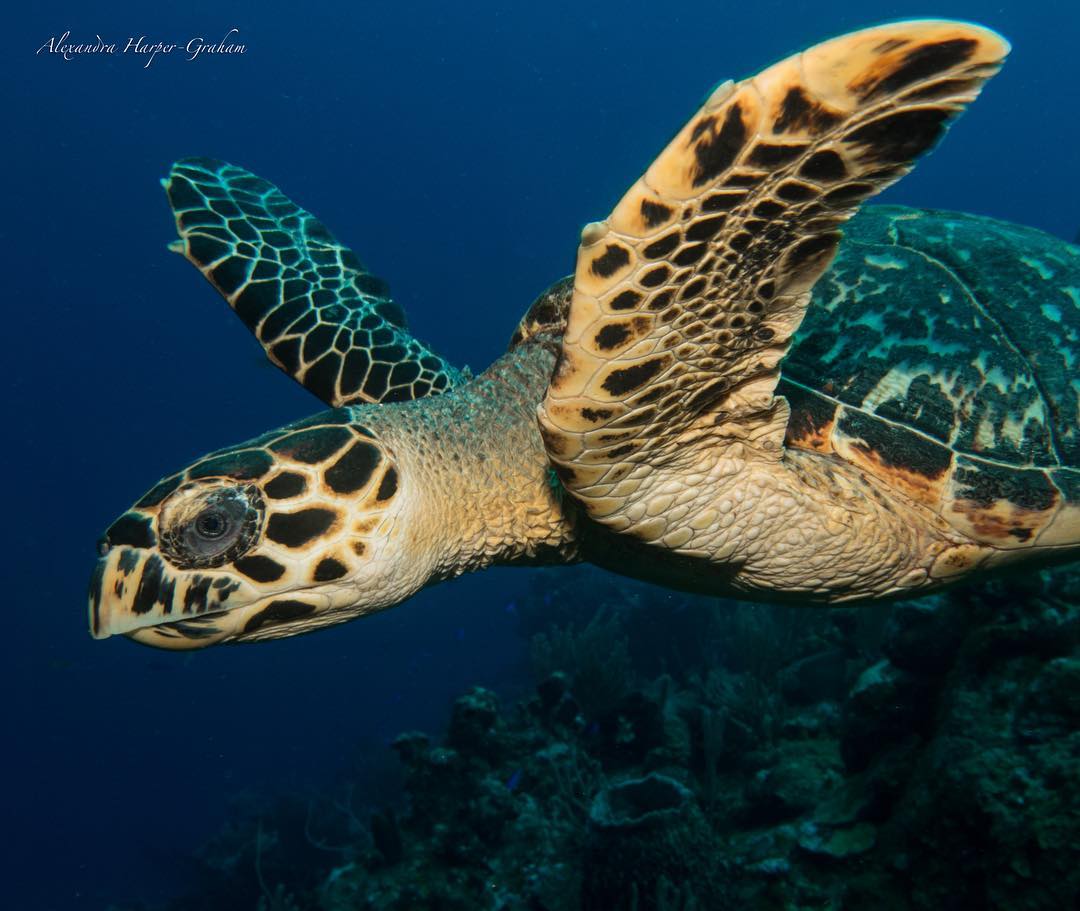 July – September
Alright guys, we are not going to lie… summer here can be HOT. Like the 'I didn't even know I could sweat this much' kinda hot. But can we tell you how good it feels to jump into the ocean for a dive on these hot days?! Amazing. Diving cools down your core body temperature and provides you with all the ammo you need to face those hot summer days!
Boats are usually less crowded, water is warm and visibility is great. If you can handle the heat this is a fantastic time to come dive with us and accommodation deals are plentiful!
TIP: If you are into fishing, the annual fishing tournament is held every year in September. The island can get busy but it sure is fun to watch the fisherman weigh all their catch from the day and it adds an exciting energy to the island. If you plan to come during this time make sure you secure your accommodation sooner than later.
Avg water temp: 29 °C (83/84 °F)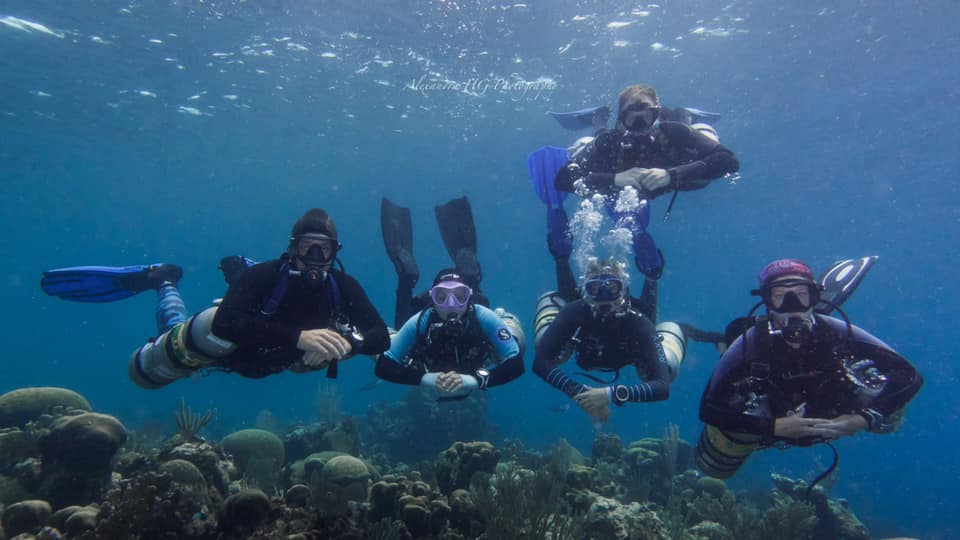 Low season (October – November)
Low season is generally October and November due to the brunt of the rainy season. The diving is still great and the water is warm but if a northern storm does roll through we generally have to move our dive operation to the other side of the island. This usually involves a 20 minute car ride to Flowers Bay to then hop on the dive boat. Some years we have more storms than others, but if the rain and possible extra logistics do not bother you.. the good news is the diving is still great!
Some dive shops and restaurants take this time to close down and regroup due to the quieter nature of these months. But not us! Coconut Tree dives all year around. You may need an extra towel to warm up during your surface interval but if no crowds and off season travel are your thing this is a great time to come and dive!
TIP: Towards the end of November we always see an influx of people taking advantage of their time off for Thanksgiving and have always got in some great dives!
Avg water temp: 28 °C (81/82 °F)
So the best time of year to dive Roatan is…
Really whatever works best for you! How fab is that? We know how busy everyone's lives can be… thankfully the magic of diving Roatan is open for business all year round! Making Roatan one of the best places to scuba dive in the Caribbean and allowing you to pick the best time of year to dive Roatan. Looks like you can fit in that dreamy dive trip in whenever you please!
TIP: If we had to pick and you are flexible, we would recommend May and September as some low season sweet spots to visit.
So tell us, when do you plan to visit?
This guy wants to know…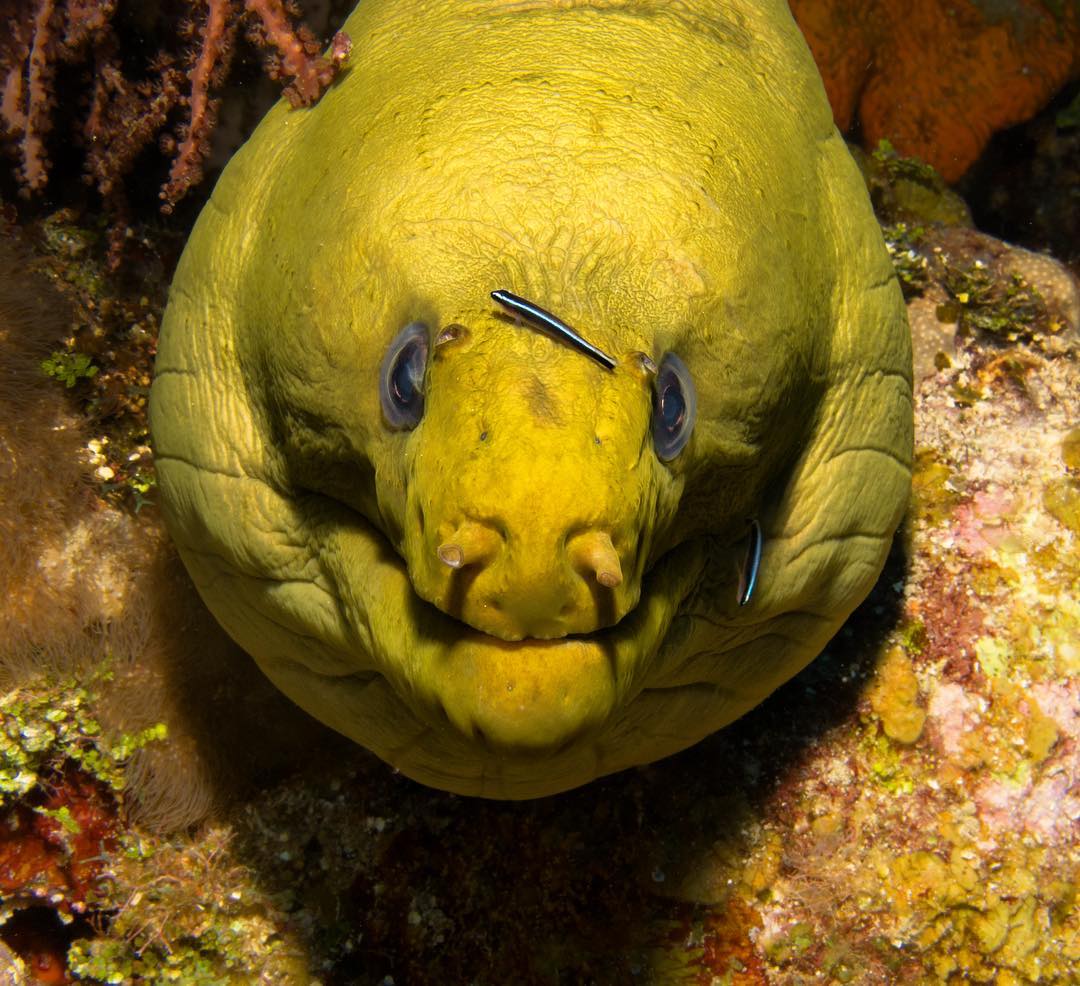 ---
We would love to have you come dive with us!
For more info on Coconut Tree Divers, schedules, courses, and pricing head to our homepage
HERE!
To make a reservation head to our online reservation page
HERE!
Want to keep up with all things Coconuts?! Make sure to follow us!